Join Shannon Sedgwick Davis, Kristen Bell & David Ocitti on April 2nd from 7pm - 10pm at ROW DTLA.
Read full bios for Shannon Sedgwick Davis, Kristen Bell, and David Ocitti below. Official RSVP closed. Please email hello@winstonhouse.com with questions.
ABOUT THE EVENT
TO STOP A WARLORD is about one woman's inspiring true story of an unlikely alliance to stop the atrocities of a warlord, proving that there is no limit to what we can do, even in the face of unspeakable injustice and impossible odds.
On Tuesday, April 2nd from 7pm - 10pm, join us at ROW DTLA for the official book launch with a live discussion between author Shannon Sedgwick Davis, actress Kristen Bell, and activist/former child soldier David Ocitti. Complimentary hard and soft drinks available.
We're inviting you to this special event not just as a guest but because we believe you can be a powerful ally in helping share the book and support the cause.
Tickets to this event are complimentary, but a book purchase is encouraged. Net proceeds from the book will go to organizations seeking justice and protection for civilians in conflict zones.
Official RSVP closed. Please email hello@winstonhouse.com with questions.
RSVP
Official RSVP closed. Please email hello@winstonhouse.com with questions.
PRAISE FOR TO STOP A WARLORD
"In this remarkable book, Shannon Sedgwick Davis proves what can be achieved when you have the courage and determination to end suffering. Her story reminds us that we have more in common than we suspect, and more power than we believe." - President Jimmy Carter
"This compelling and inspiring book beautifully moves each of us to take action to help the most vulnerable among us." - Archbishop Emeritus Desmond Tutu
"Shannon Sedgwick Davis is a mom, a lawyer, and the leader of a powerful foundation, but most of all she is someone deeply committed to justice for all. Her captivating story takes the reader on an adventure like no other, one that challenges us to rethink how we make change in the world." - Sir Richard Branson, philanthropist and chairman of the Virgin Group
Shannon Sedgwick Davis is the CEO of Bridgeway Foundation, a philanthropic organization dedicated to ending and preventing mass atrocities around the world. Established in 2000, as the charitable giving arm of Bridgeway Capital Management, the Bridgeway Foundation serves as a catalyst for peace and reconciliation in international communities suffering from oppression, genocide, and other human rights violations. As an attorney, activist, passionate advocate for social justice, Ms. Sedgwick Davis has guided Bridgeway Foundation in pioneering solutions to these seemingly intractable issues. The organization has supported such efforts including Aegis Trust, Resolve Uganda, and Invisible Children. More recently, Ms. Sedgwick Davis and the Bridgeway Foundation have been credited for their pivotal role in mobilizing awareness, civilian protection, and recovery efforts against the Lord's Resistance Army and its leader, Joseph Kony, the first-ever indictee of the International Criminal Court.
Before joining Bridgeway Foundation in 2007, Ms. Sedgwick Davis served as Vice President of Geneva Global, a leading philanthropic consulting firm that advises individuals, foundations, non-profit organizations, and corporations on international development, global health, and poverty solutions. Previously, Ms. Sedgwick Davis was the Director of Public Affairs at the International Justice Mission (IJM), a human rights agency that focuses on ending slavery, forced prostitution, and illegal land seizures in the developing world. Her work in helping rescue children from sex trafficking in the Svay Pak village of Cambodia was featured in the 2005 Emmy award-winning piece, "Children for Sale," on Dateline.
Ms. Sedgwick Davis is an honors graduate of McMurry University and Baylor Law School, from which she received the institution's Young Lawyer of the Year Award in 2011. Other recent awards include- Nomi Networks 2014 Abolitionist Award and The Rotary Club of San Antonio's 2014 Outstanding Young San Antonian and most recently, Global Human Rights Hero award from Saving Innocence. Ms. Sedgwick Davis sits on the board of several organizations including The Elders, Humanity United, TOMS, and charity: water.
Ocitti David was born in 1986, the year the Lord's Resistance Army began terrorizing northern Uganda. David, along with his family and community, lived in fear of attacks and violence by the LRA throughout his youth. By abducting children and forcing them to become a part of their army as a tactic to fuel their rebel movement, the LRA created an atmosphere of terror in the place David called home.
When David was sixteen, the LRA surrounded his entire village. During this encounter, he was forced to watch as his father was killed by the rebels. Many children were abducted by the LRA that night, including David and his two step-brothers. For six months, he was forced to move as part of the rebel group, witnessing countless acts of violence, until the day that he and two friends gathered the courage to run away and escape.
After returning home, David immediately returned to his studies. What he found waiting for him was a community and friends who no longer understood him and were afraid of interacting with him. He felt alone and ostracized from his community and was forced to travel to a safe place in town each evening to avoid being abducted by the LRA again. Despite several more years of having to hide from the LRA at night, David began to pour his focus into his studies.
David's hard work in school eventually paid off when he was awarded a scholarship to attend university through the Gulu District NGO Forum Youth Leadership Project. In 2012, he graduated with a Bachelor's Degree in Business Administration from Gulu University and has since worked with several organizations in his community, helping to mentor and counsel students who have experienced struggles similar to his own. David's passion for helping young men, women, and children who have experienced struggles similar to his own to start a new better life has led David to do voluntary services in different parts of the LRA affected areas, including three awareness tours traveling around the U.S. to share his story.
Currently, David is working full time with the Bridgeway Foundation, carrying out community-led projects in Uganda with a vision to ensure meaningful reintegration for former armed group members. David carries out family tracing, reunification, and provides livelihood support returnees from different conflicts in the region. He continues to record defection messaging from family members of current LRA fighters, to be played back to those still in the bush using FM radio, and he has an unwavering commitment to bringing peace in the region.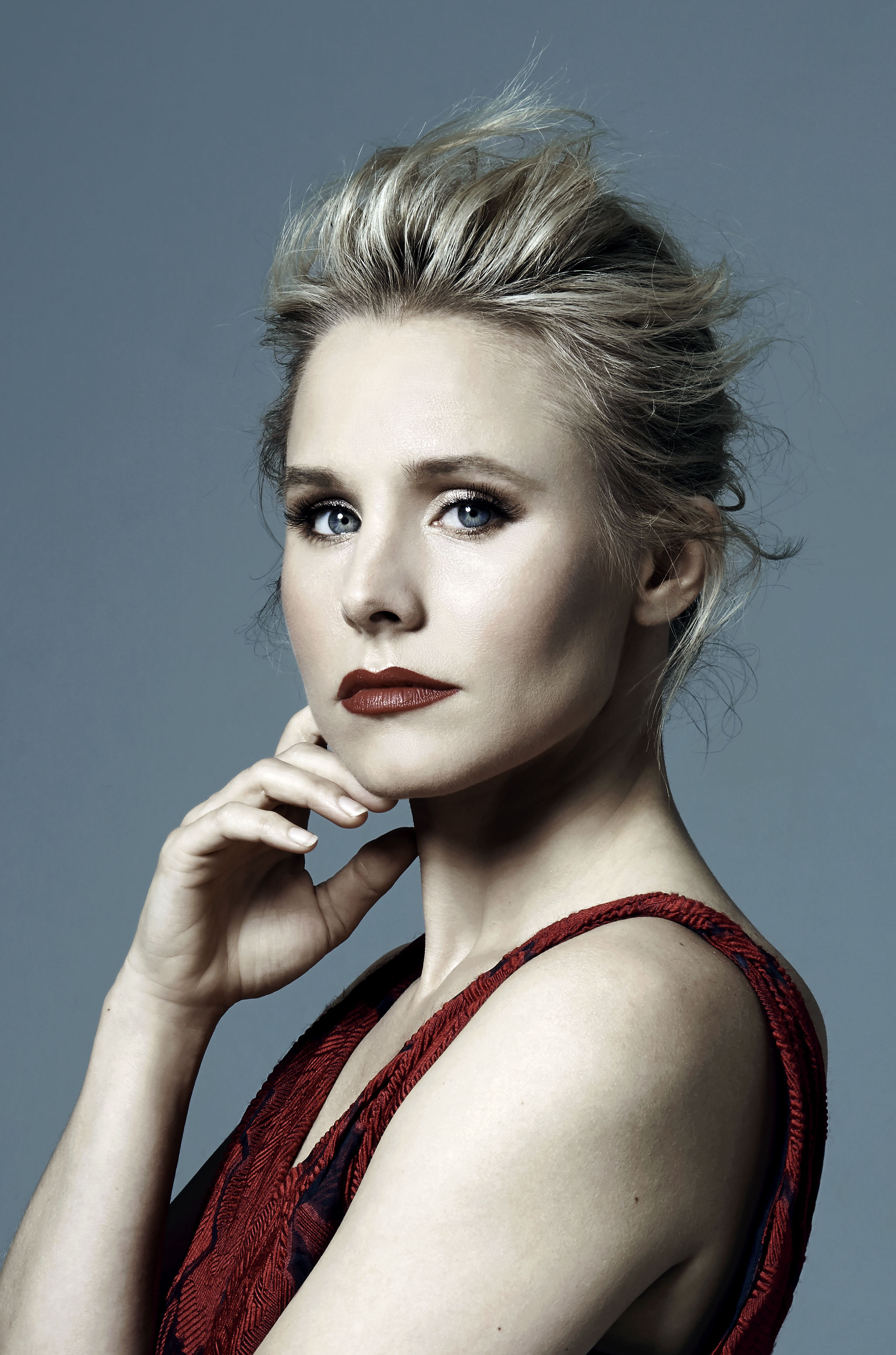 Kristen Bell currently stars in the NBC series "The Good Place," opposite Ted Danson, now airing season three. She is also set to reprise her role as the titular character in the revival of popular series "Veronica Mars," slated for release in 2019 on Hulu. Recently, Bell narrated the IMAX documentary PANDAS, lent her voice to the animated film "Teen Titans Go! to the Movies," and starred opposite Kelsey Grammer in the Netflix comedy "Like Father." Last year, Bell executive produced and appeared in the ABC special "Encore," about former high-school classmates who get together for an encore performance of their old musical theater productions. She also reprised her role as 'Anna' in "Olaf's Frozen Adventure," a featurette based on the blockbuster Disney animated feature "Frozen," that was released alongside Pixar's "Coco." She is working on the sequel to "Frozen," scheduled to hit theaters in fall 2019. "Frozen" has grossed over $1.2 billion worldwide, making it the highest grossing animated film of all time. Bell also starred in "A Bad Moms Christmas," alongside Mila Kunis and Kathryn Hahn. The film is a sequel to 2016's "Bad Moms," the first STX film to gross over $100m domestically.
In 2016, Bell was seen as 'Jeannie Van Der Hooven' in the Showtime series "House of Lies" opposite Don Cheadle, which wrapped its fifth and final season. In 2014, Bell reprised her beloved title role in Warner Brothers' film "Veronica Mars," which raised $2 million on Kickstarter in less than eleven hours and broke the record at the time for the fastest project to reach $1 million and $2 million. She appeared in a guest-starring arc on NBC's hit series "Parks & Recreation" and played the lead role in the independent film "The Lifeguard," which premiered at the 2013 Sundance Film Festival.
Her other film credits include: "CHIPs," "How To Be A Latin Lover," "The Boss," "Hit & Run," "Movie 43," "Some Girls," "Writers," "Big Miracle," "You Again," "Burlesque," "When in Rome," "Couples Retreat," "Forgetting Sarah Marshall," "Pulse," "Serious Moonlight" and David Mamet's "Spartan." Her television credits include: "Veronica Mars," "Unsupervised," "Deadwood," "Heroes" and "Party Down."
Her Broadway credits include "The Adventures of Tom Sawyer" and "The Crucible," opposite Liam Neeson and Laura Linney. Her Off-Broadway credits include "Reefer Madness" and "A Little Night Music."
Learn more about the book and the author's inspiring story.
About Spring Market
Join us for the inaugural Spring Market on Saturday, March 30, 2019 from 2pm - 8pm.
Spring Market is a modern Saturday market that brings together a unique collection of vendors, live music, visual art, inspiring speakers, and local food & beverage.
Curated by Local LA & ROW DTLA as a celebration of Women's Month, our first event highlights female founders, brands, artists & initiatives. We're excited to see you there!